The dietary supplement industry is growing rapidly in South Korea. On a case by case basis, Korean-manufactured products can now showcase a third-party certification label on their product packaging – the International Fish Oil Standards (IFOS™) certification label. This is a way for brands to distinguish themselves in a highly competitive market while building consumer trust.
Continue reading to learn how Certifications by Nutrasource can assist with achieving this certification.
Benefits of IFOS™ certification for Korean supplement brands:
Elevate your brand's reputation by demonstrating your commitment to providing high-quality products through an internationally recognized label.

Confirm that the product meets the most stringent industry purity standards, which shows product quality.

Gain recognition from

the Korea Health Supplements Association (KHSA)

. highlighting that the necessary regulatory compliance for selling products in Korea has been obtained.

Increase consumer confidence in the product and brand, ultimately leading to increased sales and customer loyalty.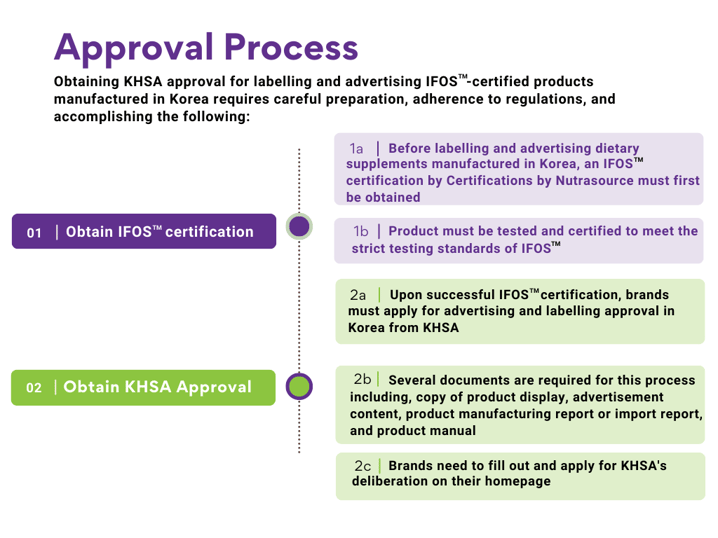 Once the application has been approved, the IFOS™ logo can be added to product packaging and advertisements for Korean-manufactured Omega-3 supplements. This signifies that the product is reviewed and approved by the KHSA, providing consumers with added assurance of safety and quality.

Nutrasource Asia can assist Korean supplement brands in obtaining IFOS™ certification and reaping its benefits. Here's how:
Introduction to the IFOS™ program:
Nutrasource Asia provides expertise to Korean brands on obtaining IFOS™ certification. Despite the high awareness of IFOS™ in the Korean market, many supplement brands are not familiar with the program's origin or the certification process. The team can guide you through the entire process of obtaining IFOS™ certification.
English Language support:
Nutrasource Asia offers a professional solution for brands who require assistance in communicating with the Certifications by Nutrasource team in Canada but do not speak English. The team at Nutrasource Asia can seamlessly manage the entire process, from contracting to sending samples to Canada to receiving IFOS™ certification, ensuring a smooth and hassle-free experience for clients.
Assistance with market access strategy:
Nutrasource Asia offers a range of services to help clients navigate the complex regulatory landscape in Korea. Our team can provide guidance on Korean regulations, assist with the IFOS™ certification process, and explain the product launch process in Korea. Additionally, we offer support in coordinating production and testing plans to ensure a seamless market launch for your products.
Market monitoring for IFOS™ misuse or abuse:
Nutrasource Asia provides ongoing monitoring of the Korean marketplace for clients who have obtained IFOS™ certification, ensuring that the certification is not misused or abused. If any issues are identified, Nutrasource Asia works with clients to promptly correct them.
By following this step-by-step guide and working with Nutrasource Asia, eligible Korean brands can obtain an IFOS™ certification and take advantage of the program's benefits.
Ultimately, IFOS™ helps brands differentiate themselves in a competitive market and meet the demands of quality-conscious consumers.
Learn more the IFOS™ program.
RELATED CONTENT: