The demand for companion animal supplements has been steadily growing in recent years. Pet owners are increasingly recognizing the importance of providing their companion animals with additional nutritional support and wellness products to enhance their overall health and quality of life. According to Facts Factors, the global pet supplement market size is projected to reach around 3.12 billion USD by 2030, with North America leading the way. One way for pet brands and ingredient providers to differentiate themselves in this rapidly growing market is through third-party certifications.
Third-party product certification is a process through which an external organization evaluates and approves the quality, safety, and credibility of these products.
BUILDING TRUST AND ENSURING QUALITY IN THE ANIMAL MARKET
Product certifications for pet supplements are crucial for several reasons and can hold significant value for both brands and consumers. Certified products stand out from non-certified alternatives, providing a competitive edge in the market. Below are some reasons consumers and manufacturers may benefit from certified and verified animal
Quality Assurance

: Product c

ertification ensures that finished products or raw ingredients meet specific quality standards and undergo rigorous testing. Product certification programs also ensure that these pet supplements are manufactured in facilities that adhere to good manufacturing practices (GMP) and stringent quality control processes.

Label Compliance

: Third-party c

ertifications often require a label review and verify ingredient claims align with scientific evidence. This helps pet owners make informed decisions and choose the right supplements based on their pets' specific needs. This compliance also benefits brands by preventing legal issues, penalties, and recalls, which can negatively impact a company's reputation and financial stability.

Differentiation and Brand Reputation

:

Certified brands can position themselves as industry leaders committed to transparency and consumer satisfaction. Positive perceptions of the brand's integrity and commitment to quality contribute to an enhanced reputation among pet owners.

Trust and Credibility

:

Trustworthy pet nutrition is essential for the health and well-being of your consumers and their pets. A product certification seal or mark on a supplement indicates that the product has passed certain criteria and has been independently verified. This assures the product's quality and dependability, creating a bond of trust among the manufacturer, retailer, and the consumer.

Consumer Confidence

:

By purchasing accredited animal supplements, pet owners feel confident they are providing their animal companions with trustworthy pet supplement brands. This contributes to a positive consumer experience and reinforces the belief they are making the best choices for their pets' health and well-being.



NAVIGATING THE PRODUCT CERTIFICATION PROCESS
If you are looking for a reliable way to verify the quality, safety, and credibility of your animal supplements, turn to Certifications by Nutrasource. Products are tested using real scientific data to make sure they are fresh, pure, and contain what is claimed on the label. Six product certification programs are available to provide transparency in the pet industry by either batch lot testing or reviewing pertinent documentation.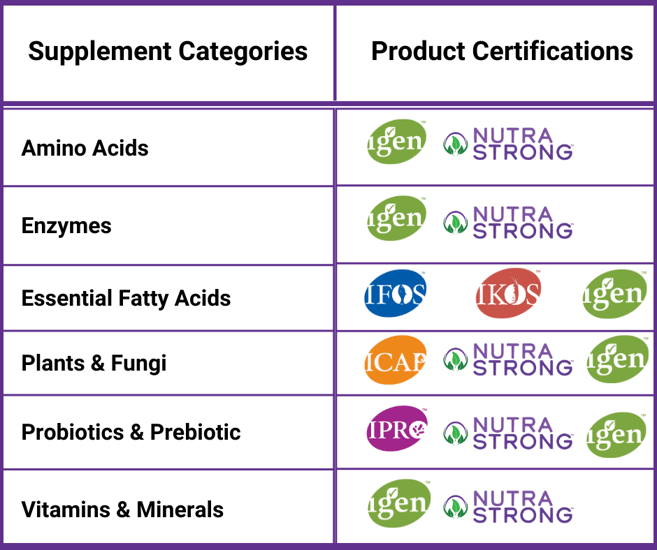 For more information about each program: Certification Programs for Animal Supplements.
Getting third-party certified is simple. Outlined below is the 3-step process.

*The product certification process may vary depending on the program you choose.
Testing
Each testing certification has its own unique testing panel to meet high quality standards.
Documentation
Extensive review of relevant documentation to support your product claims and specifications. This may include certificates of analysis, ingredient lists, labels, manufacturing records, and clinical studies.
HARNESSING THE ADVANTAGES OF THIRD-PARTY CERTIFICATION
Alongside the array of advantages offered by third-party certification, Certifications by Nutrasource extends its support with marketing initiatives and personalized product reports for each certified product. These reports can be shared with both consumers and retailers, effectively highlighting the advantages of your product. Upon third-party certification, your company gains visibility on our website through dedicated company and product pages, showcasing your commitment to quality and compliance.
FIND OUT MORE:
By partnering with Certifications by Nutrasource, you can gain the assurance of third-party certification, enhance transparency and credibility for your pet supplement products. Our team of experts is well-versed in testing standards and can guide you through the product certification process.
Don't hesitate to reach out today to explore how SGS Nutrasource can assist you in certifying your animal supplements.
RELATED CONTENT: