The first steps when developing any health and wellness product is to know first, what it is and second, how its regulated and in each target market as categorization may differ between regions. Many factors are taken under consideration when determining product classification as summarized in the figure below.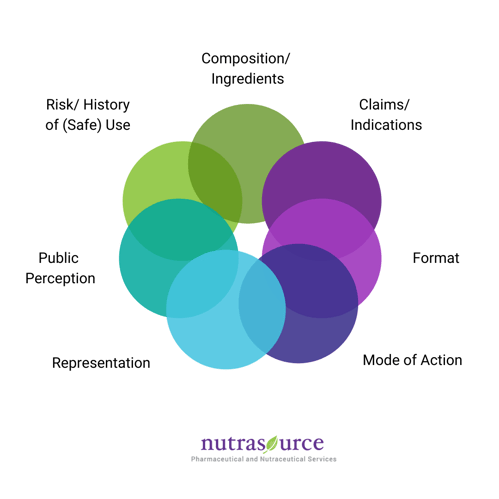 SGS Nutrasource's regulatory experts have successfully guided companies through classification and subsequent regulatory filings and pathways, including, but not limited to:
Food – Any article used for food or drink, chewing gum, and any ingredient that may be mixed with food for any purpose.
Dietary Supplements (U.S.) – Products taken by mouth that contain a dietary ingredient intended to supplement the diet such as those containing vitamins, minerals, herbs or other botanicals, amino acids, and substances such as enzymes, organ tissues, glandular, and metabolites.
Natural Health Products (Canada) – Substances for use in the diagnosis, treatment, mitigation, or prevention of diseases in humans, restoring or correcting organic functions, or modifying organic functions in a manner that maintains or promotes health.
Drugs – Substances intended for use in the diagnosis, mitigation, treatment, or prevention of disease in human beings or animals, as well as substances intended to affect organic functions. Over-the-counter (OTC) and prescription drugs are included in this category.
Cosmetics – Substances intended to be applied to the human body and used for cleansing, beautifying, or altering the appearance.
Medical Devices – Any instrument or component intended for use in the treatment, diagnosis or prevention of disease or other conditions.
The regulatory professionals at SGS Nutrasource weigh potential product classifications and associated benefits and risks against client objectives, budget, and timelines, providing regulation-based strategic advice to help achieve desired outcomes and market access.
Related content