In this special series, we highlight a member of the Nutrasource team so you can get better acquainted with the experts behind your project.
From our global regulatory offices to our onsite clinical research unit, Nutrasource's 100+ scientific and technical specialists have the skills and expertise you need to bring your project from idea to reality.
Today we sat down with Katie Keene, B.Sc., CCRP, Clinical Research Coordinator, to learn more about how she got to where she is today, what makes her tick, and what's new in the clinical trials field.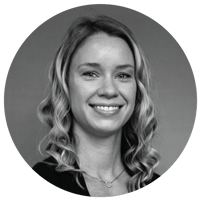 Tell us about your current role and what it entails.
As my title states, I help coordinate on-site clinical trials at Nutrasource. On a day-to-day basis, I see participants for clinic visits to review diaries and dispense study product to them, write and edit protocols and participant informed consent forms, prepare source documents, set up and maintain Investigator Site Files, and coordinate site operations.
I'm also apart of our office social committee. Planning events to bring the company together is a lot of fun.
How did you get started in the industry?
When a Nutrasource employee gave a presentation on clinical trials at one of my undergraduate courses at the University of Guelph (I majored in nutrition), I knew I wanted that to be my career path.
Six months after graduating, I applied for a maternity leave position at the company and was hired on as a Regulatory Affairs Specialist. Later, I transitioned into Clinical Trials Project Assistant and then Clinical Coordinator.
What do you enjoy most about your position?
My regulatory position was great, but I missed the daily face-to-face interaction with people. When I started coordinating trials, it was a great chance to leverage my customer service and clinical experience at the same time.
So I would say interacting with the study participants, while satisfying our clinical trial Sponsors/clients, is what I enjoy most.
How do you see the clinical research field changing in the next 5 years?
I foresee a lot more online interaction with participants. Whether it be obtaining informed consent for a study online, or even study visits online or done through online diaries.
Sadly, it will take away a bit of what I love most—the face-to-face contact with our patients—but will speed up the visit process, which is a good thing operationally.
Any hobbies or pastimes you'd like to share?
I love sports, animals—I have two dogs which my boyfriend and I adopted from Korea and whom I love dearly, and one elderly cat (15 years old and still going strong!)—and food!
I play recreational basketball and volleyball and would say it is a great way to let off steam and get in that necessary, but oh-so-tricky-to-fit-in exercise.
What's your favourite part about working at Nutrasource?
The family feel, the support for one another in the workplace, and the exciting growth we are experiencing right now. And of course, the focus on bringing more naturally-based healthcare products to market!
Connect with Katie on LinkedIn.