In this special series, we highlight a member of the Nutrasource team so you can get better acquainted with the experts behind your project.
From our global regulatory offices to the onsite clinical research unit, Nutrasource's 100+ scientific and technical specialists have the skills and expertise you need to bring your project from idea to reality.
Today we sat down with Rob Greco, G.Dip, B.Sc., Clinical Trial Coordinator to learn more about how he got to where he is today, what makes him tick, and what's new in the clinical research field.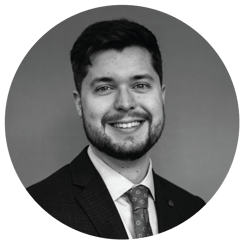 Tell us about your current role and what it entails.
I wear two "hats" here at Nutrasource. The first is as a Clinical Trial Recruiter for our on-site trials. When I have that hat on, I'm responsible for planning advertising for our on-site clinical studies before they begin, managing our database of potential participants, and recruiting participants to take part in the trial. My involvement in the recruitment process includes working with our other on-site recruiter since the Nutrasource family has grown! Switching to my other hat, I am also a Clinical Trial Coordinator. Coordinators organize the study procedure during a clinical trial and guide participants through all stages of a trial. That involves everything from informed consent to product administration to sample collection and processing.
How did you get started in the industry?
I began by studying Biochemistry at the University of Ottawa. My interests in the life sciences, and a desire for more practical experience, led me to a Clinical Research Graduate Diploma Program at Humber College. Being introduced to the world of clinical trials through a college program was a great experience because it included both theoretical and practical learning.
From there, I spent a little over a year working with the Ontario Institute for Cancer Research in a program that worked to boost patient recruitment to clinical trials run by academic institutions across Canada. When an opportunity presented itself to work with Nutrasource doing recruitment, I took the chance and never looked back.
What do you enjoy most about your position?
The versatility of my role is my favourite aspect. Being part of the Nutrasource team is never boring because new research is always around the corner, and the clinical trials clinic is a very dynamic environment that relies on a lot of different skills.
How do you see the clinical research field changing in the next 5 years?
Introduction of new cannabis consumer products is going to make the demand for product research skyrocket. My predication for the next several years is that a lot of new product claims will need strong scientific substantiation in the cannabis space.
Any hobbies or pastimes you'd like to share?
My favourite pastime is a wonderfully nerdy fantasy trading card game called Magic: the Gathering. Released in 1993, it's the oldest and most popular trading card game out there. Apart from fantastic artwork and entertaining game play, it's really the gathering part of Magic that makes it so great. It might be hard to believe that a card game has transferable life skills, but I firmly believe that any hobby that exposes you to an inclusive community will be beneficial. It has really taught me to try and make a safe, inclusive space everywhere I go.
What's your favourite part about working at Nutrasource?
My favourite aspect of working at Nutrasource is the small-team feel. Even as we've grown as a company, all the management staff are so accessible and responsive that communication is a breeze.
Would you rather have a run-in with 100 duck-sized horses, or one horse-sized duck?
That's a great question. I think there is a real problem with combating 100 small horses: fatigue. There's no way to get around the exhaustion of repeating anything that strenuous 100 times. Although, I think a horse-sized duck would be extremely dangerous, as you really increase your chances by reducing the number of things requiring your attention to just one.