In today's regulatory climate of full accountability and transparency, it is critical to have strong science to back-up any claim made on a health product, be it a dietary supplement sold in the United States (U.S.) or a Natural Health Product (NHP) marketed in Canada. This will be a key component of your dietary supplement and NHP marketing strategy. We know advertising health products is critical to your marketplace success and we want to help you make sure it is done the right way.
Firstly, it is important to note that while dietary supplements are equivalent to the NHP categories, there are some major differences in regulations between the two countries.
| | |
| --- | --- |
| U.S. | Canada |
| Only new dietary ingredients require pre-market notification to the Food and Drug Administration (FDA) | NHPs are subject to pre-market approval. |
| Dietary supplements are regulated post-market, as a subset of foods, and restricted to products taken by mouth (e.g., capsules, tablets, soft gels, gel caps, powders, bars, gummies, liquids, etc.) | NHPs are considered a subclass of drugs, and can be formulated in pharmaceutical-like dosage forms (e.g., elixir, suppository, topical ointment, etc.) |
As a result, the potential claims for dietary supplements and NHPs vary significantly with most dietary supplements carrying structure/function claims and NHPs ranging from low- to high-risk health claims.
Given the complexity and nuances between jurisdictions, SGS Nutrasource's regulatory experts will help you understand how to approach claims substantiation and apply these best practices to both product types.
Label Claims for Dietary Supplements – in US and Canada
A health claim (both U.S. & Canada): used to indicate the beneficial effect of a product in reducing the risk of a disease or health-related condition when used in accordance with its recommended conditions of use.
A structure/function claim (only for the U.S.): describes the role of a nutrient or dietary ingredient on the normal structure or function of the human body.


In the U.S., dietary supplements may make health claims; however, they are subject to pre-market review and authorization by the U.S. FDA. Structure/function claims are not pre-approved per se, but a notification must be submitted to the FDA no later than 30 days after the dietary supplement is first marketed.
In Canada, an NHP must have a recommended use expressed via its health claim, and that health claim must have a health context in order to attain Health Canada approval in the form of a Natural Product Number (NPN). Therefore, given the conditions under which NHPs are screened, reviewed, and subsequently approved, they cannot carry structure/function claims.
This flowchart summarizes the different categories of claims in the U.S. and Canada.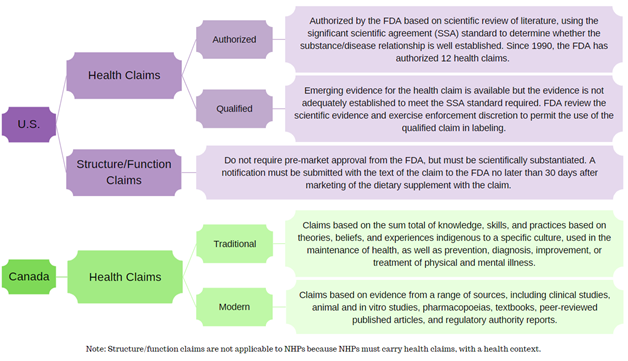 Constructed using guidance documents from the FDA and Health Canada.
Simply put, in order to avoid unnecessary and potentially costly consequences, we need to know the do's and don'ts to consider when assessing a product's claims potential.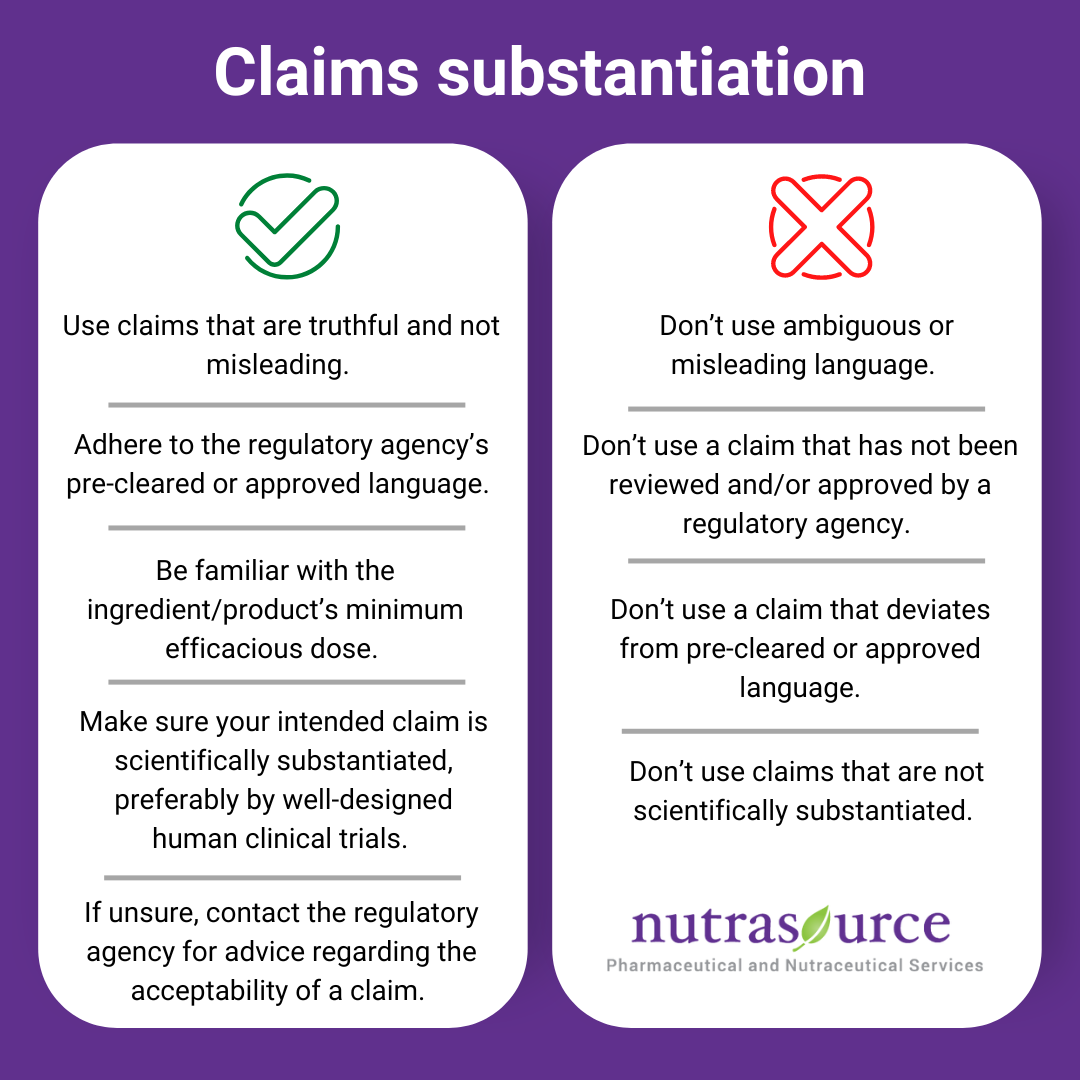 SGS Nutrasource offers claims substantiation consulting to ensure regulatory compliance for your product label in line with the various geographical jurisdictions.
Speak to a member of our team on how we can support your regulatory needs.
RELATED CONTENT