Study designs need to support the final claims including marketing claims. Risk management is a key aspect of formulating a robust clinical development program and may include proof of concept studies such as dose ranging or multiple dose studies and pilot studies, prior to engaging in pivotal clinical studies to determine evidence of effect and variability around changes resulting from supplementation with the investigational product.
Clinical studies are typically discussed in terms of clinical trial phases, irrespective of product type. Depending on the Sponsor's goals, some clinical study phases may or may not be applicable to the program goals, especially for dietary supplement companies.
This classic structure of clinical development is known as the fixed stage approach and includes four stages of research: Phase I, Phase II, Phase III and Phase IV studies. An overview of each clinical research phase is described below:
Phase I Studies
Phase I studies include single- or multiple-dose safety and tolerability studies in the target population or in healthy individuals. Most common to the nutraceutical industry is the single-dose bioavailability study, which may be used to understand the characteristics of a single dose of product and its appearance in the blood, or to provide substantiation on a marketing claim in comparison with a competing marketed product.
However, it is critical for the nutraceutical sponsors to understand dosing of their product. A clinical trial may fail to show an effect, not because the effect wasn't there, but only because dosing (the amount per dose and total dose per day) was wrong.
Phase II Studies
Sponsors may begin development with a Phase II study, bypassing Phase I studies as evidence may be publicly available that pertain to the finished product's safety through toxicological studies and/or published human studies on the ingredients contained in the finished product. Less often does Phase II research include dose range studies.
Dose ranging and dose response studies are not commonly conducted in the nutraceutical industry but are a key study in the development of pharmaceuticals. Valid dose response data allows for the determination of appropriate dosing and maximum recommended dose, while dose response studies can elucidate appropriate timing of dose (morning versus evening) and frequency of dosing. A professional product development plan will identify the need for a dose range finding study or the ability to determine dose from existing data.
Phase II studies are often positioned as proof of concept (pilot) studies with the primary purpose to explore if the product has clinical efficacy. Too often emphasis is placed on these studies to be pivotal studies providing statistical significance in a small number of subjects without understanding the characteristics of the study population, optimal dose, placebo response, and/or effect size of the product.
Phase III Studies
Phase III studies are larger and often multi-center trials that confirm effects demonstrated in Phase II clinical trials. The need for Phase III trial designs is dependent on the findings of earlier stage trials as well as the necessity, dependent on the regulatory requirements, for the claims on the product. For example, in Canada, at least one Phase III study is required to support a disease prevention claim for supplements.
Phase IV Studies
By definition, Phase IV studies are post-marketing studies conducted to learn more information about the product after it is placed on the market. These include post-marketing surveillance studies and studies intended to support publications, not changes to the label or registration changes.
It's important to understand each of the four clinical study phases because, depending on your objectives, some phases may not be applicable to your project. This is especially true for dietary supplement companies.
To learn how Nutrasource can assist with developing, planning, and executing your regulatory and clinical research strategy, contact us today.
---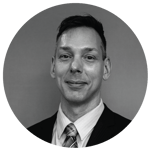 Josh Baisley, B.Sc., is Director of Domestic Clinical Trials at Nutrasource. With nearly 15 years of experience in quality assurance, clinical, pre-clinical, and regulatory affairs for the natural health products sector, Josh has been directly involved in over 65 clinical trials accounting for more than 10% of all clinical research applications received by Health Canada. Connect with Josh on LinkedIn.